CoBrA was an art movement active between 1948 and 1951, formed by artists from Copenhagen, Brussels, and Amsterdam, including Karel Appel, Constant, and Asger Jorn. The group sought to innovate a new kind of socially-attuned artmaking grounded in freedom of form and color, spontaneity, and experimentation.
CoBrA holdings at the Beinecke
Cobra, issues 1-7, 10 (1948-1951; nos. 8-9 were never published).
Announcement of exhibition at Galerie Taptoe featuring CoBrA artists: Pierre Alechinsky, Karel Appel, Enrico Baj, Asger Jorn, and Christian Dotremont, 1956.
Other material related to CoBrA
Bulletin international du surréalisme révolutionnaire, 1948.
Surréalisme révolutionnaire collection
Le surréalisme révolutionnaire, poster for the eponymous periodical.
Reflex, 1948, issues 1-2.
Reflex: het blad van de avant-garde..., 1948, promotional poster designed by Corneille to advertise the journal.
La chevelure des choses, by Christian Dotremont, 1961.
Related collections
CoBrA was an art movement that brought together artists previouly active in the Dutch group Reflex, the Danish group Høst, and the Belgian Revolutionary Surrealist group. CoBrA was officially formed by Karel Appel, Constant, Corneille, Christian Dotremont, Asger Jorn, and Joseph Noret in November 1948, with the signing of the manifesto "La cause était entendue" at the Café Notre Dame in Paris. The name was coined by Dotremont from the initials of the members' home cities: Copenhagen, Brussels, and Amsterdam. The group espoused a doctrine of freedom of color and form, and they drew on various forms of primitive art and mythology as a source of inspiration. Their working methods were based on spontaneity, experimentation, and deskilling. They overtly distanced themselves from Surrealism, which they considered too academic, and geometric abstraction, which seemed too formal and depersonalized. While their individual work was quite distinct, the members shared an interest in Marxism, and their artistic production was often undergirded by a concern for socio-political issues that emerged during this postwar period. In particular, they sought to introduce a mode of artmaking that would appeal to and could be taken up by everyone, regardless of class or race. The group dissolved in 1951, after just three years, although many of its members went on to be involved with other avantgarde groups developing at the time, the most well-known example of which is Asger Jorn's involvement with the Situationist International, and the way Constant's New Babylon project was taken up by the SI as well as the Dutch Provos.
We cannot inherit a fixed, unmoving view of life and of art from the past generation. The expression of art is
in any period different, as are our experiences.
A new experience creates a new form.
ASGER JORN
Cobra 1 (1948)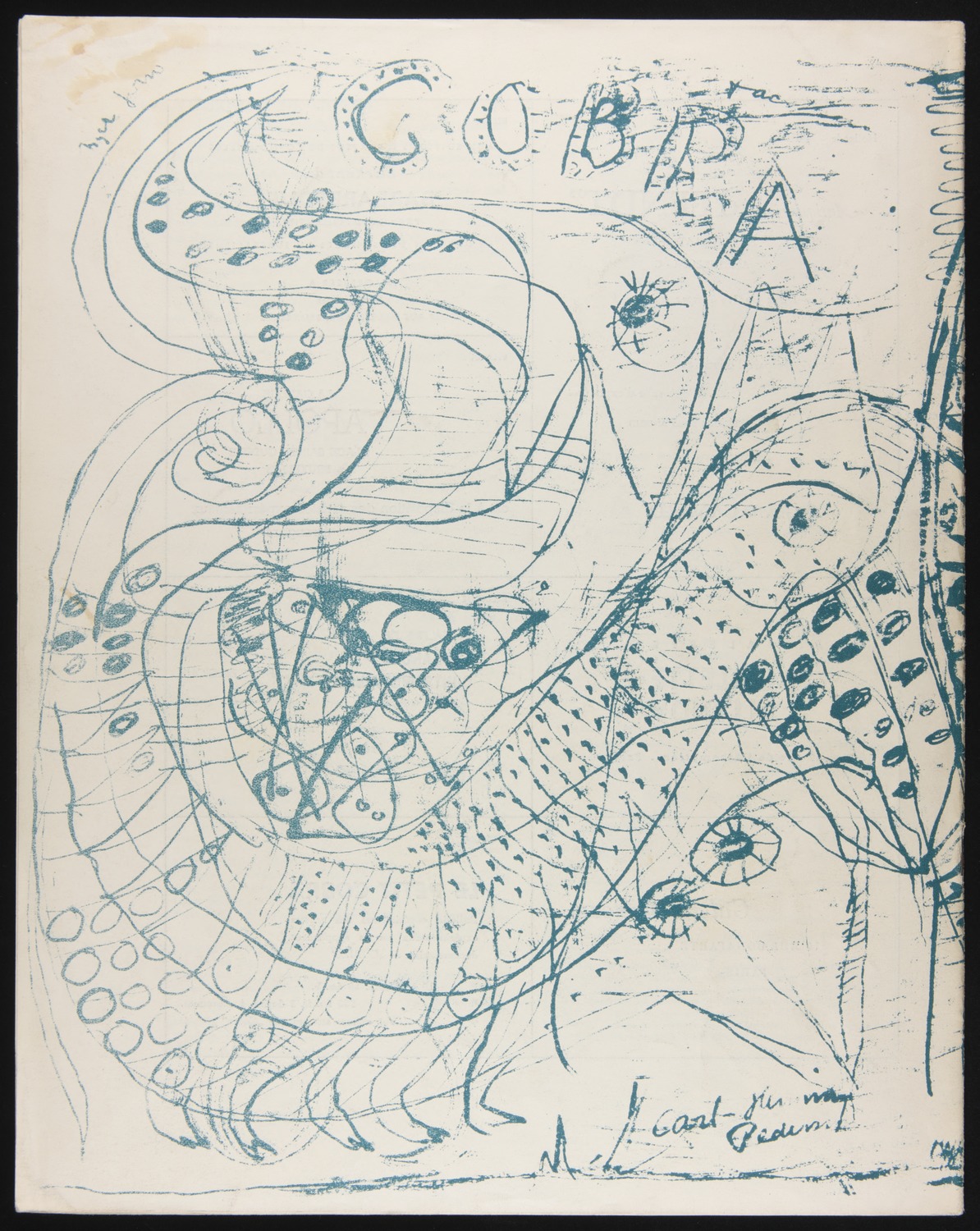 Cobra 1 (1948)
Back cover
Cobra 2 (March 1949)
Cobra 4 (1949)
This issue also served as the catalog to accompany a group show, the International Exhibition of Experimental Art, organized by Willem Sandberg at the Stedelijk Museum in Amsterdam.
Cobra 4 (1949)
p. 2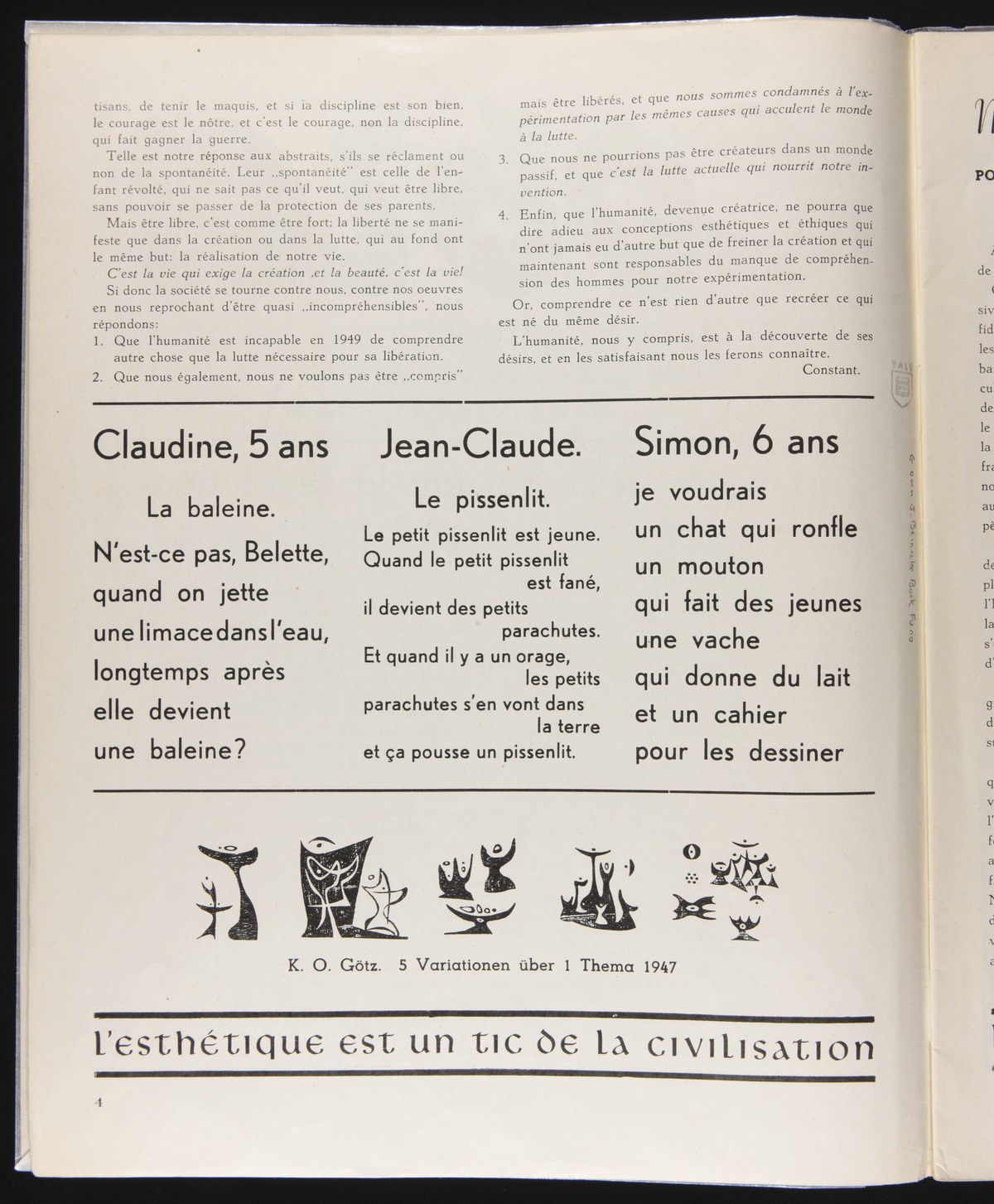 Cobra 4 (1949)
p. 3
Cobra 5 (1950)
Cobra 5 (1950)
Back cover
Cobra 6 (April 1950)
Cobra 6 (April 1950)
Back cover
Original draft of CoBrA manifesto, November 8, 1948
Film showing CoBrA exhibition at the Stedelijk Museum, 1961.
Short documentary film on CoBrA.